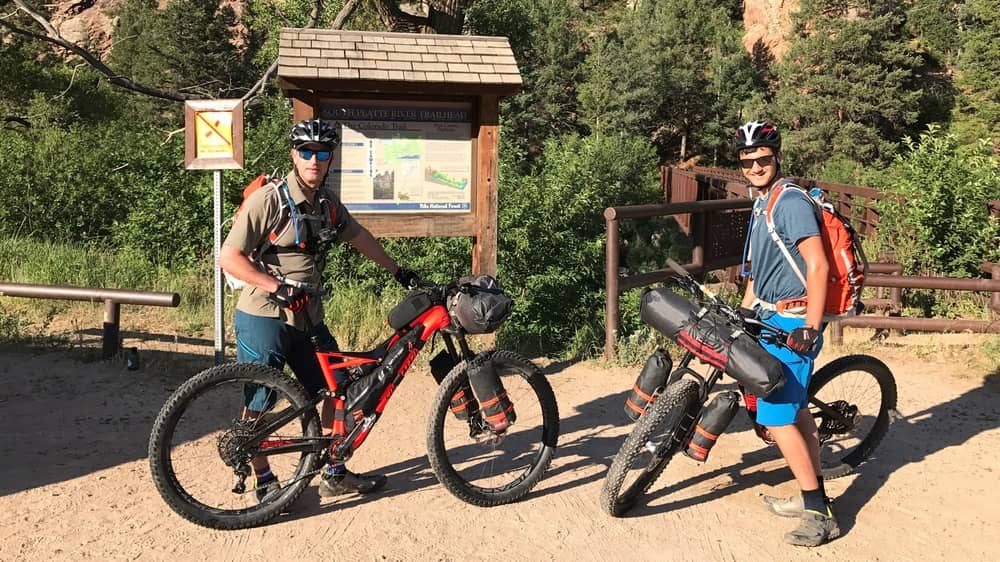 CT Day 1 – after riding Segment 1 a few weeks ago, we decided to start our Colorado Trail adventure on July 5th with Segment 2 at the South Platte River trailhead.  We were up at 5:30 and on the trail by 8am.
We rode this segment until 9pm to get through it as fast as possible in the cool night air. By that point we had covered nearly 40 miles and climbed 5624 ft in elevation – a big day for us.
Segment 2
This segment runs through the Buffalo Creek burn zone, and is really exposed to the hot July sun. We made good time getting up above the river and flew through the zone, passing several hikers who wisely wore sun umbrellas over their packs.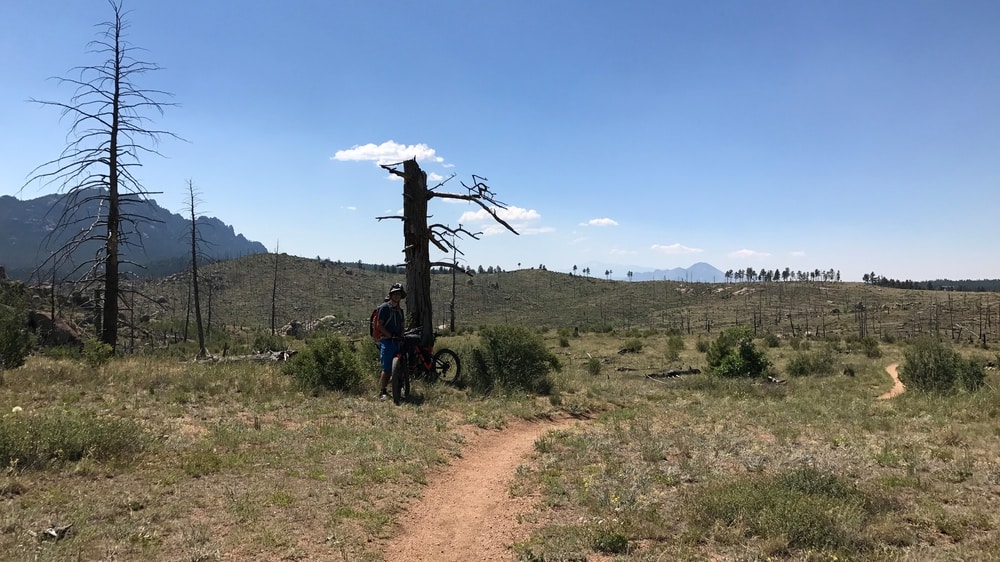 We made it to the end of the segment and the North Fork Volunteer Fire Department which graciously offers a water spigot to CT hikers.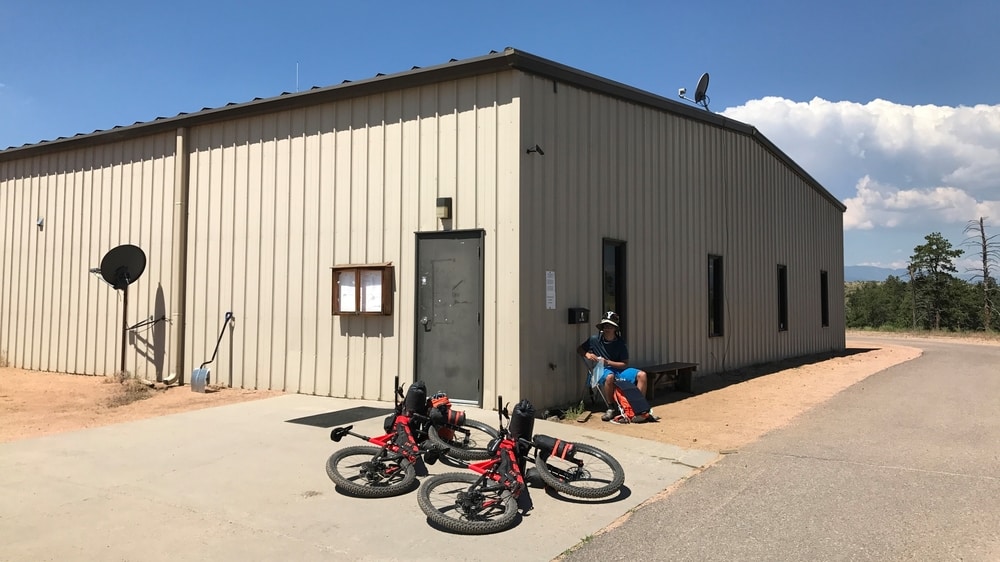 So we filled our bags, dropped $20 into the donation box, and headed back to the trail to find some shade and have lunch.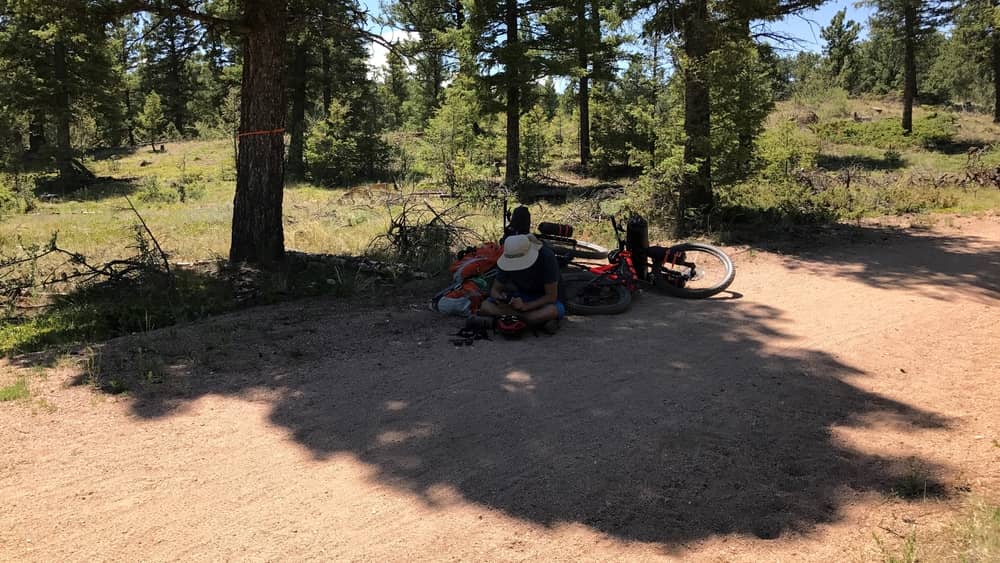 Peanut butter and Nutella on a tortilla – eat it up, yum.
Finishing Segment 2, onto Segment 3
We continued to make good time through Segment 3, which has a lot of cool rock formations.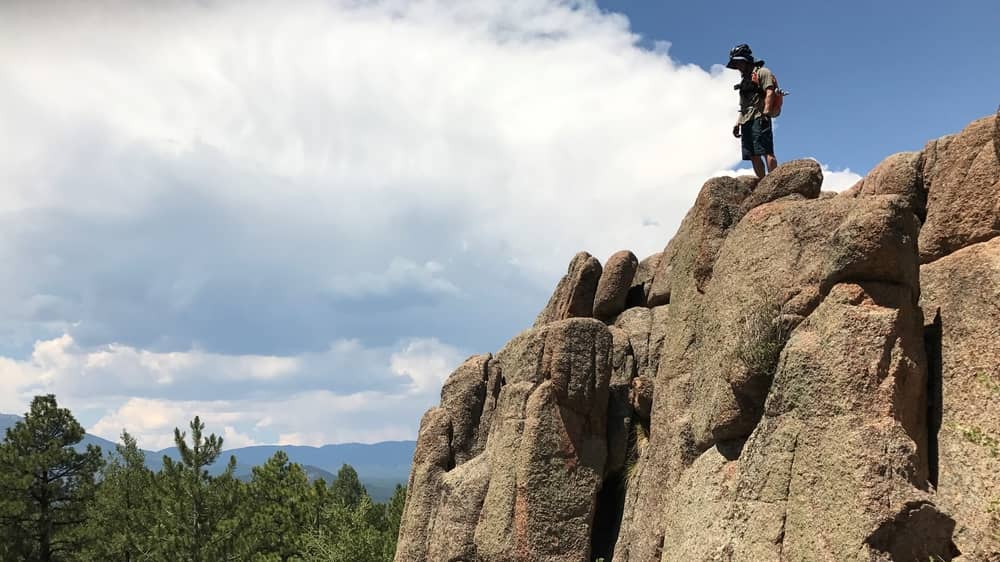 At pretty much every stream crossing we filled up our 3L water bags, and washed out our bandannas. I never used a bandanna until this trip, and I'm sold on how useful it is out on the trail. A cold compress on the head takes the stress of the heat off.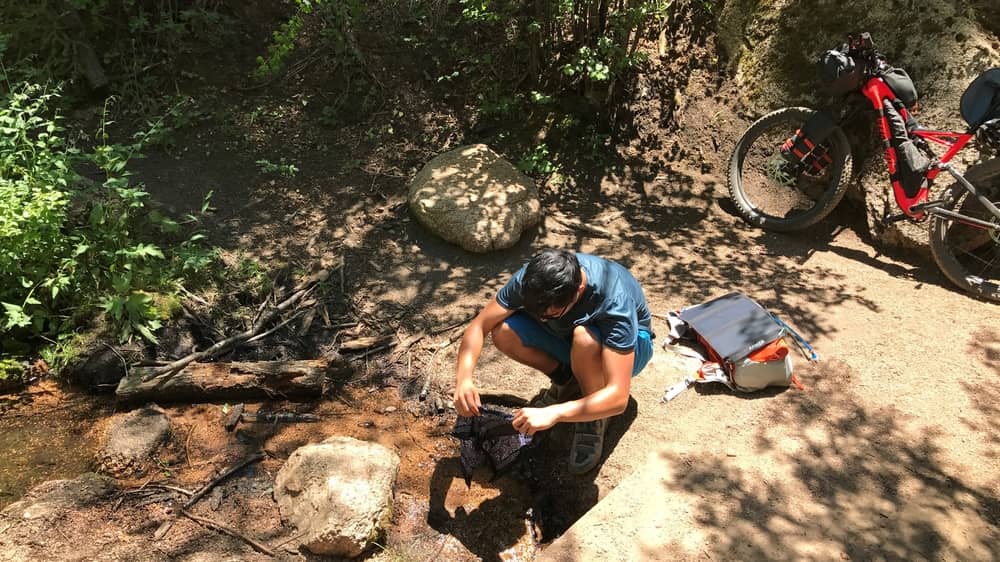 CT Day 1 – Segments 4 and 5
By 5pm we had finished the 2nd segment, and needed to start the reroute around the Lost Creek Wilderness Area. This is a bit of sore spot for me. USFS policy has designated six forests along the CT as protected, and there can be no 'machines' in them. They consider bikes to be machines. So instead of 30 miles of trail, we cyclists need to route 60 miles around the entire forest. We can't even walk the bikes through. Seems like outdated policy to me!
Anyway, we started our reroute to the south and ended up having dinner at Wellington Lake.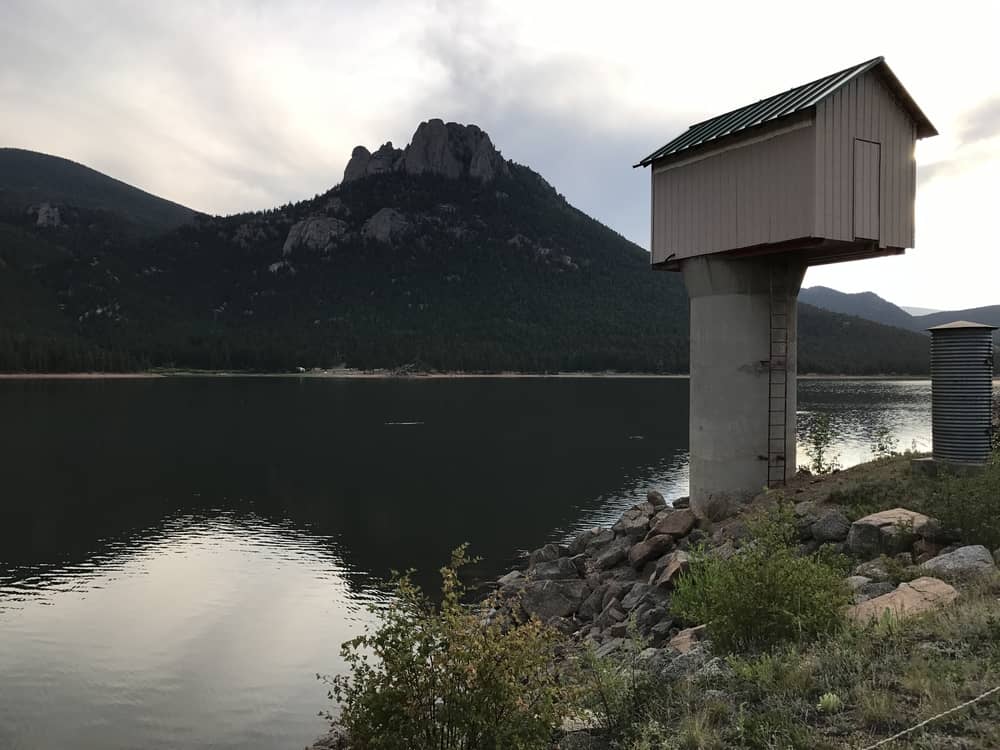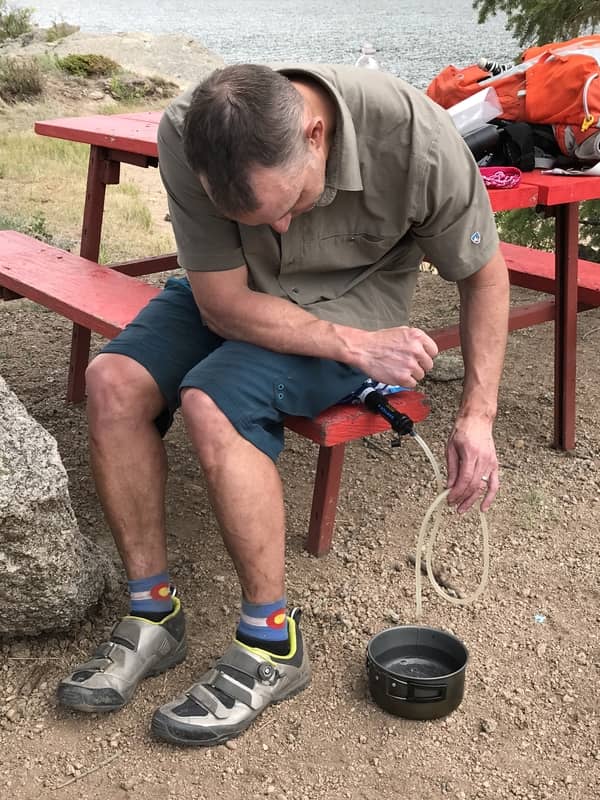 Wellington Lake
Finally after all the riding in the sun we were able to resupply water. We use the Sawyer Squeeze water filter with a 64 oz bag that we sit on. Kyle devised a simple addition of another hose to prevent any dirty water from running into the clean. We simply sit on the bag and within 10 minutes or so we can filter 3L of water for our bags or cook set.
I found out at this point that Kyle really can't stand any of the Mountain House food products, even though I love them. I insisted he eat his Chili Mac with Beef, and he nearly gagged. But we had packed precisely 4 days of food to get to Breck and that 700 or so calories were critical.
Even though it was nearing 7pm, we felt pretty good and decided to ride more. The rest of the Lost Creek reroute was through more sun exposed areas so traveling in the morning and evening is best.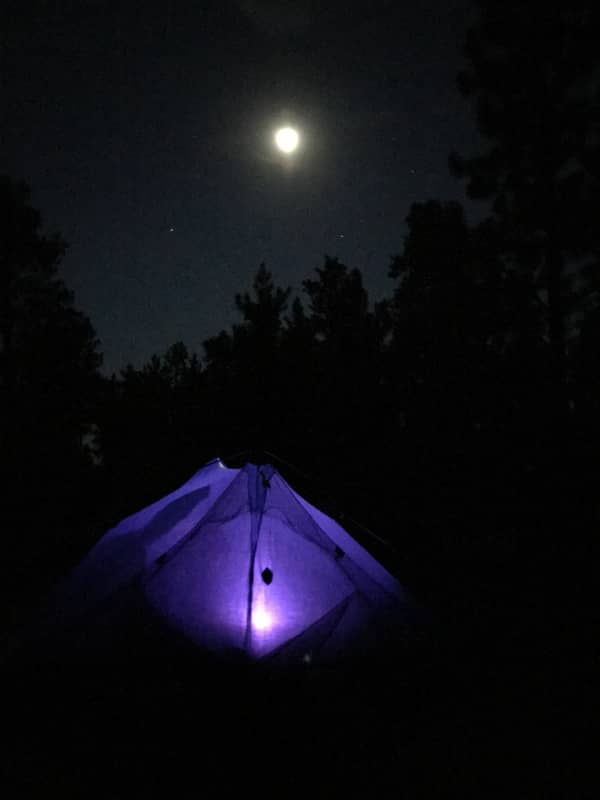 CT Day 1 End
Prior to doing the CT I did significant research and route planning using two apps, Gaia GPS and Ride With GPS, and we had both apps on our phones, with all routes and maps downloaded. We don't need to be on the grid to use them – they work in airplane mode with just the GPS radio. I love Ride with GPS the best as it will audibly warn me if I've strayed off trail.
However, we found a fault in the system – both rely on Google Maps for their mapping tech, and Google doesn't have precise routes for this part of Colorado.
So, as it was getting dark, we turned onto Forest Road 545 to find more water and pitch camp, but our navi started to tell us to take turns that didn't exist. After bumping into the Lost Creek Wilderness area, we back tracked a few times. Finally at 9pm we gave up and pitched the tent. We'd have to survive with 1L of water each till the next day.